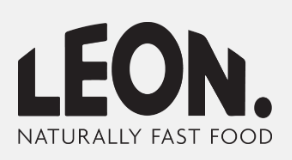 Leon is a "Naturally Fast Food" restaurant chain. They offer fast food but all natural and pretty healthy too!
They're also offer a wide range of gluten free, vegetarian and vegan food.
Leon also has a nice selection of food for when you're hungover. Hahaha. Nice one!
Please see below for LEON's menu with prices. We just updated this list for April 2020.
Poached egg pots

Truffle Mushroom
£2.95
Grilled mushrooms in a rich truffle sauce and two freshly poached eggs.
Saucy Beans
£1.95
Poached egg topped with saucy beans.
Full English
£3.95
Bacon, gluten-free sausage, saucy beans and a poached egg.
Halloumi & Mushroom
£3.75
Grilled halloumi, freshly roasted mushrooms, saucy beans and a poached egg.
Smoked Salmon & Avocado
£3.25
Hand-reared smoked salmon, freshly smashed avocado and two poached eggs.

Sourdough Toast

Buttered Toast
£1.35
Toast with Honey
£1.45
Toast of the Town
£1.6
With cinnamon & date butter.

Yoghurt

Price for IN
Price for take OUT
Megan's Yoghurt
£2.95
£2.45
Layers of live yoghurt
and high-fibre ruby berry compote with dark chocolate and granola.

Porridges

Porridge of the Gods
£2.65
Dark chocolate, organic honey and banana. Heavenly.
Blueberries, Honey & Toasted Seeds
£2.65
Fresh blueberries, toasted seeds and a drizzle of organic honey.
Banana & Cinnamon
£2.65
Our date butter with banana and cinnamon.
The Ruby Red Porridge
£2.65
Organic cashew milk porridge topped
with almond butter and a berry compote.

Sourdough Muffins

Sausage & Egg
£3.95
British Cumberland sausage, egg, and LEON-made ketchup.
Smoked Salmon & Egg
£3.95
Hand-reared smoked salmon and egg with fresh spinach and dill yoghurt.
Smashed Avocado & Halloumi
£3.95
Freshly smashed avocado with halloumi and a touch of chilli sauce.
Mushroom & Egg
£3.95
Freshly roasted mushrooms, egg, spinach and LEON- made ketchup.
Bacon & Egg
£3.95
Bacon, egg, spinach & LEON-made ketchup.

Breakfast Boxes

The Veggie Breakfast Box
£4.45
Fresh avocado, grilled halloumi and mushrooms with two freshly poached
eggs, saucy beans, and roasted tomato. Breakfast of champs.
The Big Breakfast box
£4.95
A breakfast feast of bacon, gluten-free sausage, two poached eggs, sliced avocado, beans and grilled mushrooms. Breakfast, fresh out the Box.

LEON Coffee

Regular
Large
Latte
£2.6
£2.9
Cappuccino
£2.6
£2.9
Americano
£2.1
£2.4
Flat White
£2.6
Filter Coffee
£1
£1.3
Hot Chocolate
£2.7
£3
Mocha
£2.7
£3

Teas & Steepers

ENGLISH BREAKFAST
£1.95
£2.05
EARL GREY
GREEN TEA
GINGER STEEPER
FRESH MINT STEEPER

Drinks

Prices IN
Prices for take OUT
Fresh Lemonade
£2
Strawberry Lemonade
£2.25
Raspberry, Lime & Earl Grey Iced Tea
£2.75
Passionfruit & Lemon Iced Tea
£2.75
Peach, Orange & Rosemary Juicy Water
£2.75
Apple, Honey & Lavender Juicy Water
£2.75
Freshly Squeezed Orange Juice
£2
Acai Berry Smoothie
£2.95
Clean Green Shake
£2.95
Mango & Passionfruit Kefir
£3.55
£2.95
Carrot, Apple, Ginger & Turmeric Juice
£2.95
Apple Sparkly Can
£1.25
Orange & Mango Sparkly Can
£1.25
Ginger Kombucha
£3.45
Still Rosemary Water
£2.45
Sparkling Rosemary Water
£2.45
Sparkly Water 500 ml
£1.1
Still Water 500 ml
£1.1
Still Water 750 ml
£1.6
Iced Latte
£3.1
£2.6
Iced Americano
£2.5
£2.1